Ohboy! It has been a long journey… The official announcement of my collaboration with GMK is dated 2022 May 25. Almost precisely one year later MTNU finally goes into pre-order phase, but the work for me (and GMK) is far from over!
I'll spare you scrolling to the bottom for the vendor pages. You can pre-order your MTNU set right now at:
The cost for a base kit is roughly €100 / $100 but it's a special introductory price and future sets will be more expensive, so grab them while they are hot! The sets should be delivered to vendors this September but let's play it safe and say you should start getting your orders around October/November. Pretty quick turn around for GMK :P
If you are undecided and don't know which set to buy, I would suggest you to get Susu as that goes directly to support 1+ year of my work.
Unfortunately at this time I can't offer more than 3D renders. GMK is still working on modifiers and spacebars, all I've got is 1-unit keys. The quality is amazing, honestly better than anything I've seen so far especially in PBT and they are still prototypes so more optimization will go into them.
Considering what I've seen so far I –and all the vendors actually– have no doubt that GMK will be able to deliver a high quality product.
If you want to know more about MTNU please check my last post where I make a nice recap of all its features, let me just list here the main characteristics:
Full PBT double-shot
Medium height (roughly the same as Cherry profile)
Round, spherical top
1.6mm thickness
Row profile is R1-1-2-3-4-4
Lightly textured
Deep dish homing keys
Designed in Italy, Made in Germany
So let's have a look at the renders.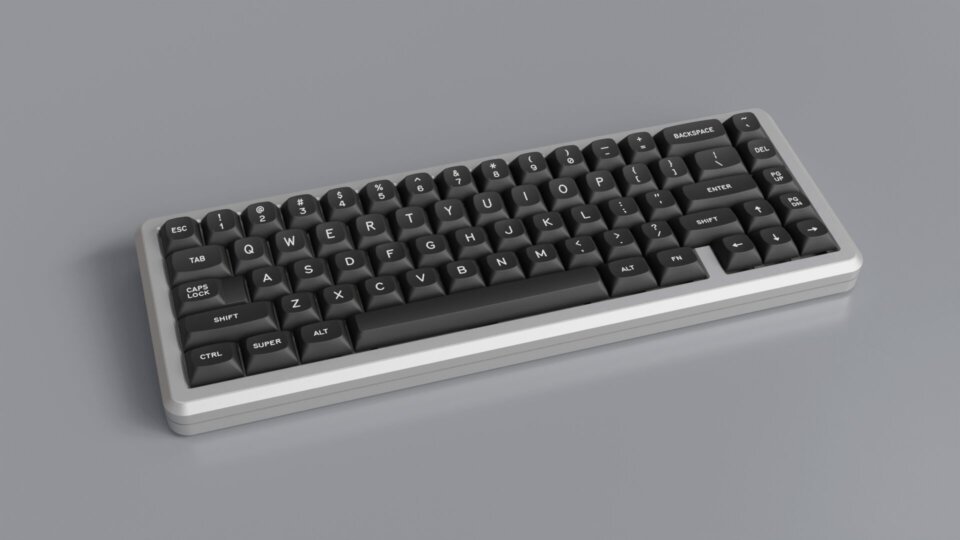 I know it's hard to jump into a new profile knowing nothing about it. Follow closely this blog and my discord for day to day updates, as soon as I get more prototypes I'll post pictures and sound tests. In the meantime here below you can see how MTNU compares to other famous profiles.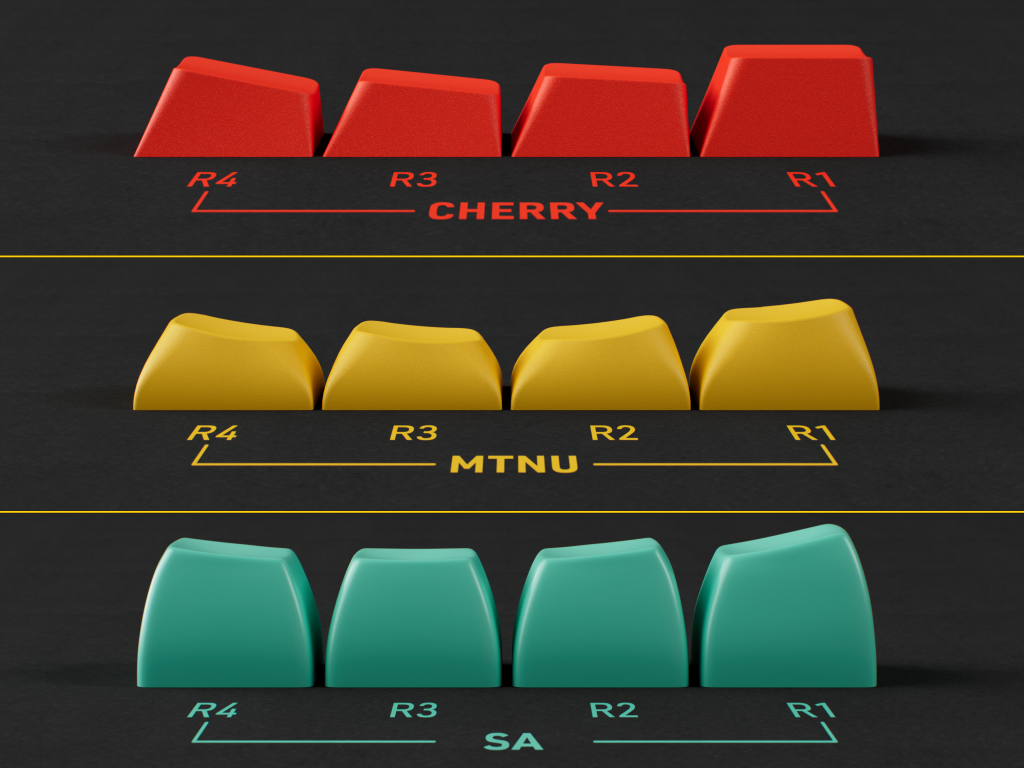 I really put a lot of energy and heart into MTNU, it's the coronation of a 10 years career and experience in keyboards and keycaps and I'm grateful to the guys at GMK for making my vision even greater.
I am very much invested into the typing experience so I worked first of all on the ergonomics and I hope you'll appreciate that aspect other than the aesthetics.
The profile is what I call "floating fingers". It means that your fingers float over the keycaps without ever hitting anything apart the key you want to press. It's different from the Cherry profile where the keys "get in the way"; it's not necessarily a bad thing because they help you locate the rows without looking (eg: the big step from R2 to R1) but MTNU is a more advanced profile and it wants you to learn touch typing properly :)
There's one exception to the rule which is the Function Row. Unfortunately we don't have a dedicated R0 so we use R1 for F1-12 as well, that leads to a not perfect height for the top row but if the profile is successful we plan on adding both a R0 and a dedicated R5 (for the modifiers). Just to be clear, apart from very high profile keycaps with dedicated R0 (eg: MT3) the function row problem is something that most profiles share, so this is me being an incurable perfectionist but I like to be 100% forthcoming.
One last note about key sizes. This first round of keycaps covers a wide range of keyboards but 40% is limited. The next round will add better compatibility and more spacebars, namely: R2 1.75, R3 1.25, R3 1.5, 1U spacebar, 6U spacebar. The list may change.
Stay tuned for more MTNU news!