After 5 years from MT3 I'm finally working on a new keycap profile. It's still spherical top and sculpted but medium height. In many ways it's an evolution of the MT3 design but they are different enough to coexist. I'm still early in the development process but I want to show you the current state of thing so to get feedback and suggestions.
The why
Many years have passed since MT3 and I now have more resources not to mention experience to design and prototype the keycaps at home. I have a very high quality resin 3D printer that I'm using to test each iteration of the new caps and I can make quick adjustments in a matters of hours instead of weeks (or months) as it happened before.
MT3 is a great high profile set done as an alternative to SA that was pretty much the only option at the time. Even if we extensively worked on ergonomics, it is not for everybody. The tall nature and sharp edges can be daunting to some so it's time to build something more general purpose and that you would use on any keyboard.
The who
This time I'm 100% designing the product and I will involve a manufacturer only when I'm sure the profile is perfect. I don't want to get sucked into a corporate agenda until the very last moment.
I am of course looking forward to receiving feedback from the community, but no money is involved during the design phase.
Design, CAD work and initial prototyping is done by yours truly; regarding production things are of course more complicated. I've been contacted by quite a few companies that are interested so I'm confident we have a good chance of bringing this thing to life, but —again— at this stage I don't want to think about that.
The design
The key features are:
medium height
sculpted profile
spherical, round top
perfectly smooth top surface
curved top edges
Let's go through all the points.
First of all it will be medium height. Somewhere in between MT3 and DSA. Think of it as the spherical top counterpart of a cherry profile, even though R3 will be probably a tad taller.
The profile will be sculpted and it's not clear if the rows will be 1-1-2-3-4-4 or 1-1-2-3-4-5 or 0-1-2-3-4-5.
Every company/manufacturer I talked to like 1-1-2-3-4-4. It's easier to make, kitting is simpler and shipping is lighter. While I don't mind ditching R0 (basically a dedicated function row) I'd still like to offer the option of a flat Row 5 as MT3 does (even though recently Drop is rarely offering that option).
At the current stage R3 is on a -4 degree angle. To give you an idea MT3 is at -7 deg and SA is at 0 deg. The other keys are built upon that so to create an harmonious curve.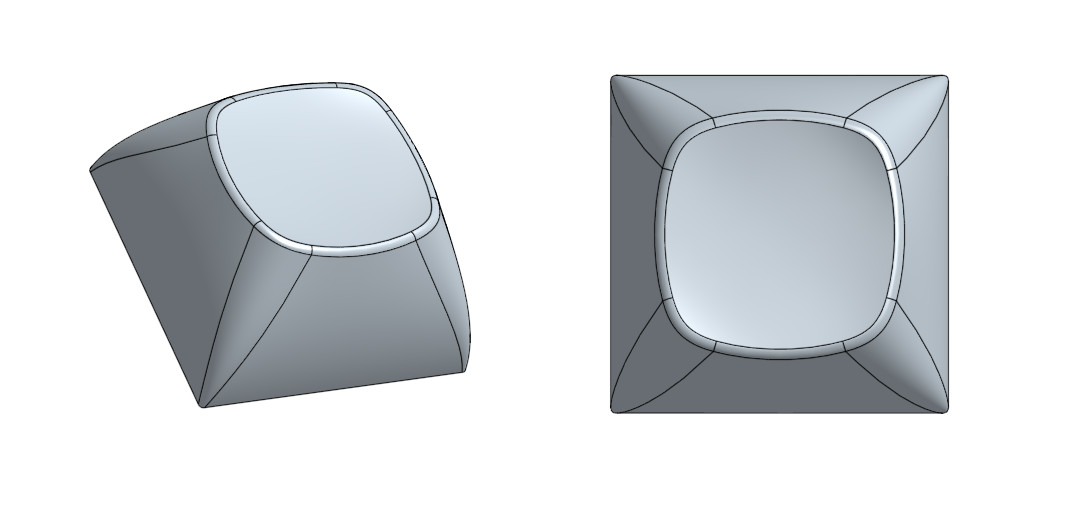 The top dish is spherical with a round outline. If you look at MT3 or SA you'll notice that the top shape is mostly a square with rounded corners. The new profile is more rounded.
Another important factor I worked on is the smoothness of the dish. I'm not talking about the texture but the actual geometry. It's hard to explain without feeling it on your fingertip, but most of the spherical top keycaps I've tried have very faint inconsistencies in the shape of the scoop. Creating a perfectly smooth surface out of a not perfect circle turns out to be quite the task, anyway for now you'll have to trust me on this, the new scoop is so darn smooth (maybe you can tell from the pictures).
The footprint is also about 0.1mm smaller than MT3, that should help when a keyboard frame is slightly out of standard and thicker than usual. The new size should easily fit any keyboard.
Last but not least, the top edge is not straight but on a curve, that should help making long typing sessions more comfortable. Some reported a sharp edge on MT3, I believe this solution is rather elegant.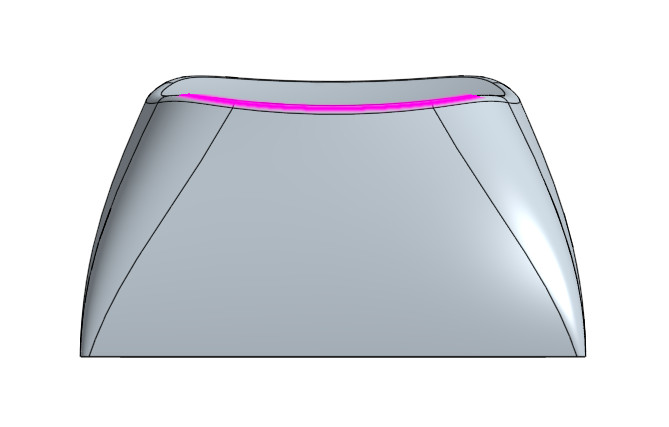 The material
As you know by now I'm a PBT guy, but I'm open to discussion. It will also depend on the manufacturer capabilities. In recent years I've seen decent 2-shot PBT sets, so that's also a possibility. TL;DR: too early to say.
Current status
The main shape of 90% of the keys is done. I miss stepped capslock, ISO Enter and vertical 2u keys. Everything else is ready. That being said, every aspect of the keycap (roundness, dish depth, side thickness, top angle, key height, …) is parametric. That means that I can change a few parameters and automatically get a complete updated set. So any change can be done almost on the fly.
I already ran two rounds of prototypes and I'll print more this week, unless I made some terrible mistake I'd say the final prototype should be ready in a couple of weeks.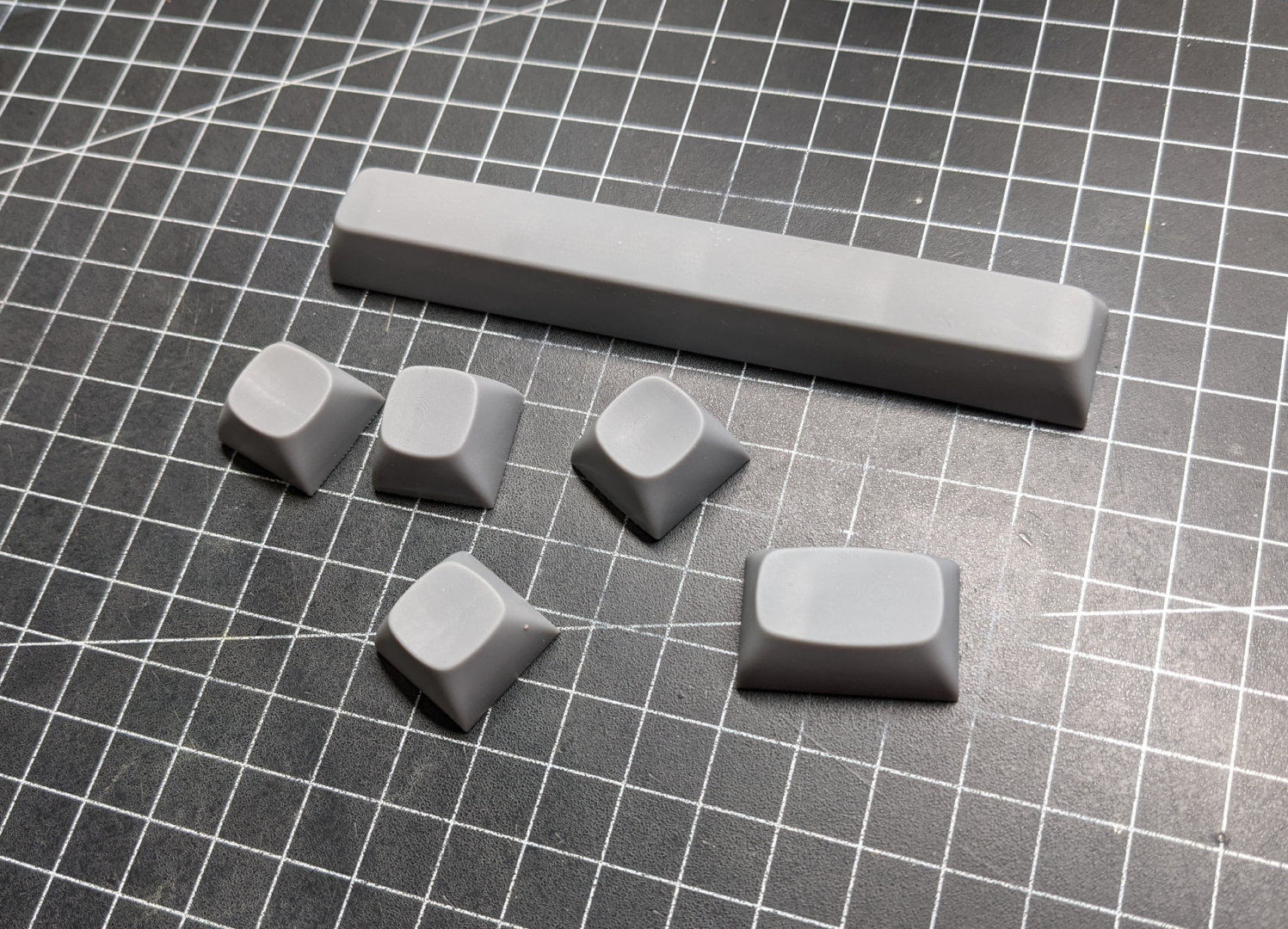 At this stage I very much welcome any feedback. The comment section is just fine or you can drop me an email. I've also set up a Discord server if you want, but I don't have much time to dedicate to it so it will be a bit deserted :D …
Anyhoo… Here's the Discord invite.